HYDRATION FOR EDUCATION SOLUTIONS
OASIS has the clean answer to provide water for public areas while limiting the spread of germs with innovative products including contactless, antimicrobial, self-cleaning features. Our units can be hard-piped in, free-standing, mounted on floors or walls, and placed in high-traffic areas or tucked away. With a full suite of products, OASIS has the solutions to help keep your students, teachers, and staff hydrated and healthy.
PURE DRINKING WATER MATTERS
Plumbing codes often require access to clean drinking water. Government funding can be used to upgrade or replace existing fountains with OASIS units that feature self-scoring drains, meeting code standards. OASIS provides water solutions that retrofit or convert other brands for access to fresh drinking water and filtration systems while using pre-existing refrigeration, plumbing, and electrical supplies.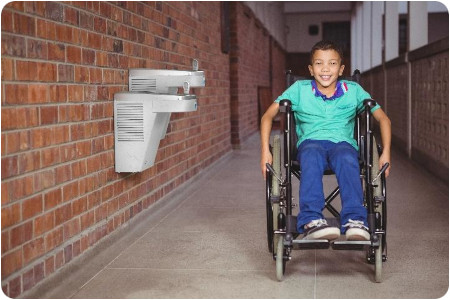 Whether in new, existing or expanding campuses, OASIS can help!
Click the OASIS model in the map to view our recommended products for school campuses of all shapes and sizes.
Did You Know ?
Lead is still found in school drinking water?
Children are most often exposed to lead at school at drinking fountains, tap water from faucets, or from food cooked with contaminated water. The EPA and CDC agree that there is no safe level of lead for children and can cause low IQ, slowed development and behavior problems.
500,000+
children ages 1-5 in the U.S. are estimated to have elevated levels of lead in their blood.
American Academy of Pediatrics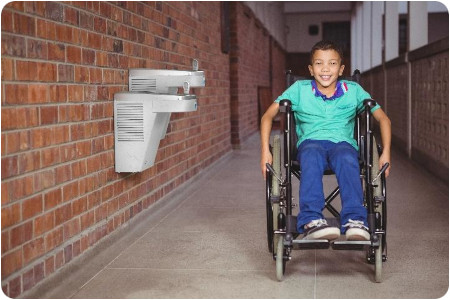 20%
of lead exposure can come from drinking water.
Environmental Protection Agency
8%
of lead was allowed in plumbing pipes until 2011, before 1986 there were no restrictions in place.
OASIS is Your Protection
Purification at the point of use is critical to preventing contamination. As a leader across the industry, OASIS filtration systems are tested and certified to set standards for lead, cyst, chlorine, taste, and odor reduction.
Schools are especially susceptible to lead in their water due to longer water service lines, and are often situated far off roadways. Prolonged periods of inactivity in the evenings, on weekends, and during summer months give lead more time to leech into water. Filtration systems are a sustainable way to protect the drinking water integrity in current bottle fillers, fountains and water coolers.